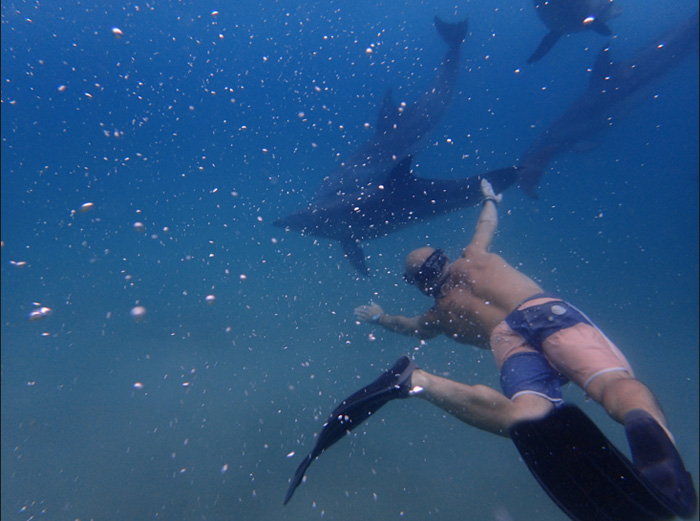 #swim free! There is no excuse to keep these magnificent creatures in swimming pools. Sharing moments in the ocean with them is one of the most magnificent gifts you can give yourself.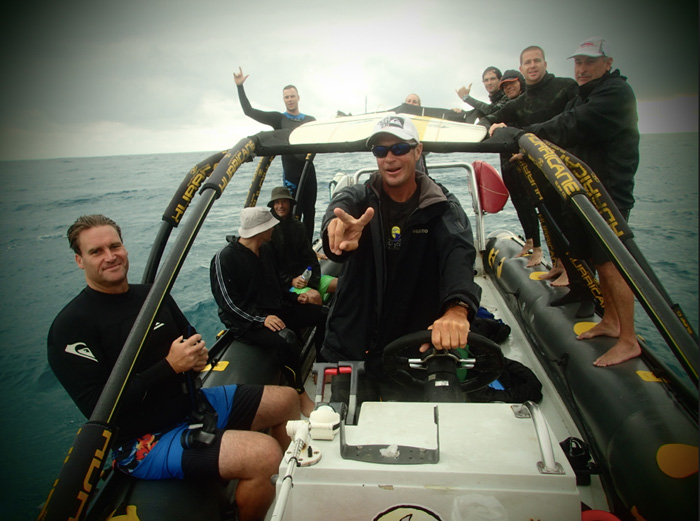 Our legendary skipper, Digger, no GPS or compass and he always hits the spot.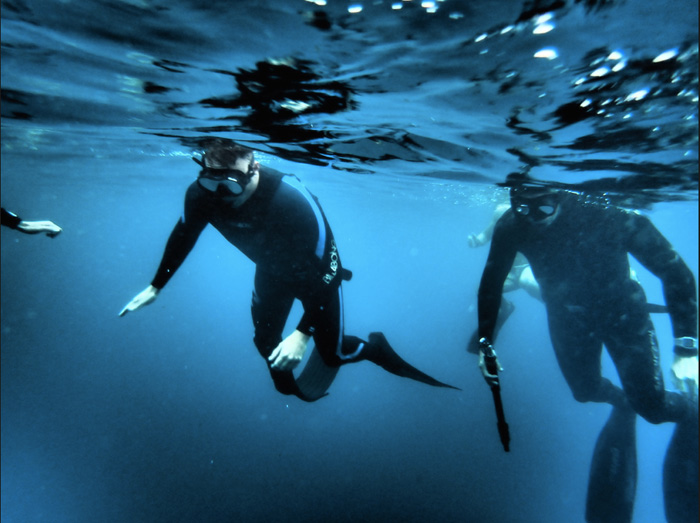 Centering yourself before a dive.
That moment we all dream about.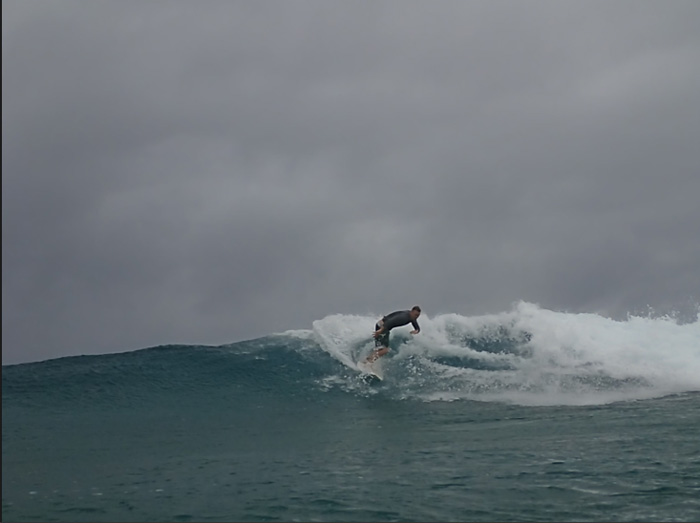 In between dives Peter found time to throw a bit of spray.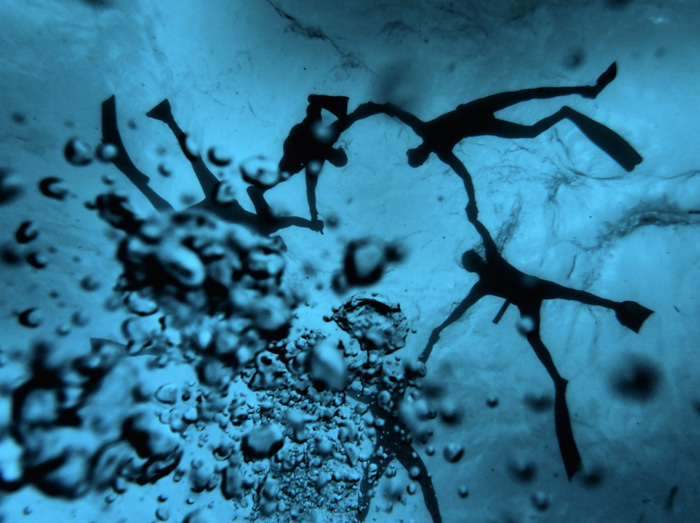 Divers view of the crew resting on the surface.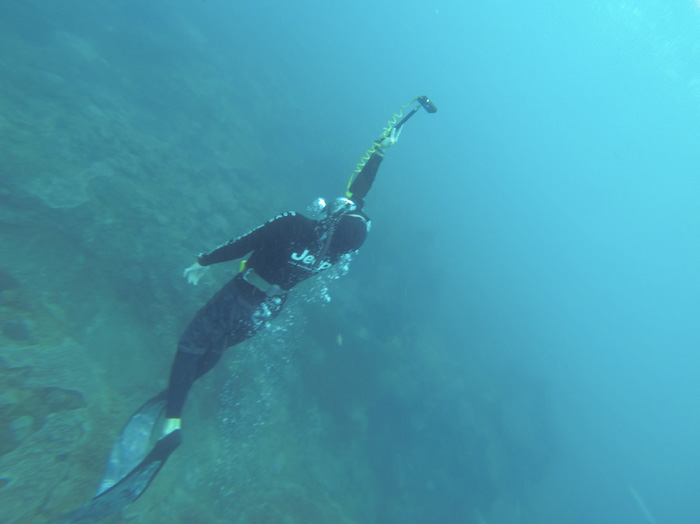 Our legendary guide Clay, who is almost part of the wildlife down there he dives so often.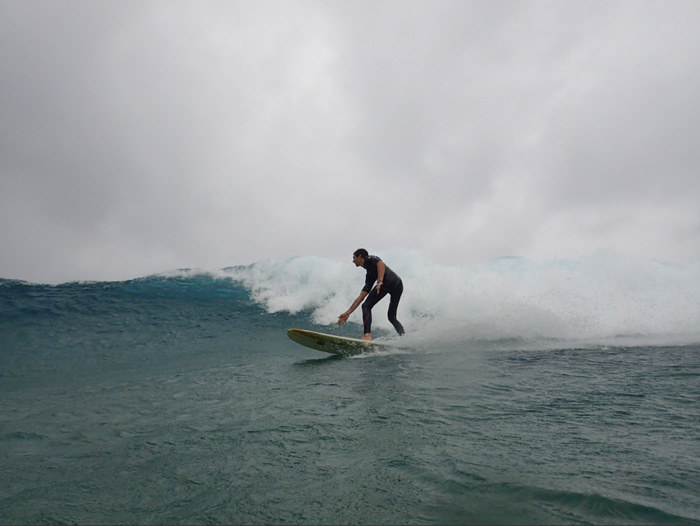 Wilhelm loving life.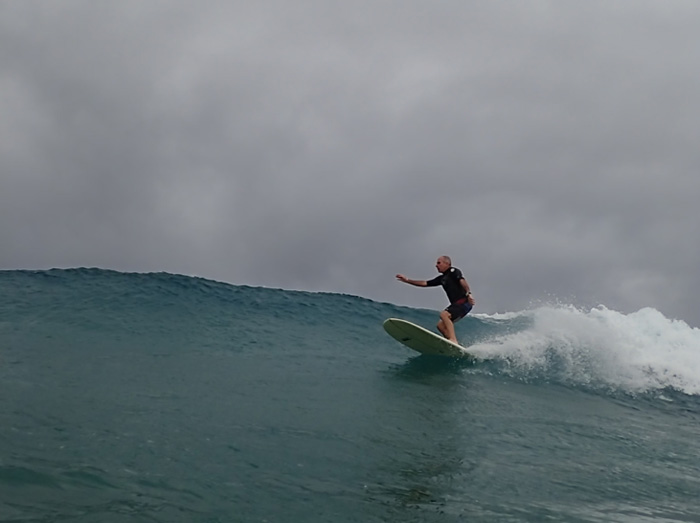 Geoff Charging on his longboard.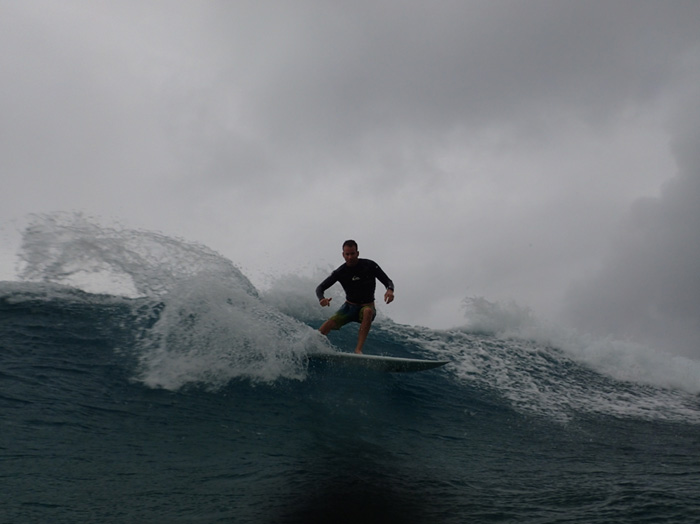 Craig jamming on his own private pointbreak.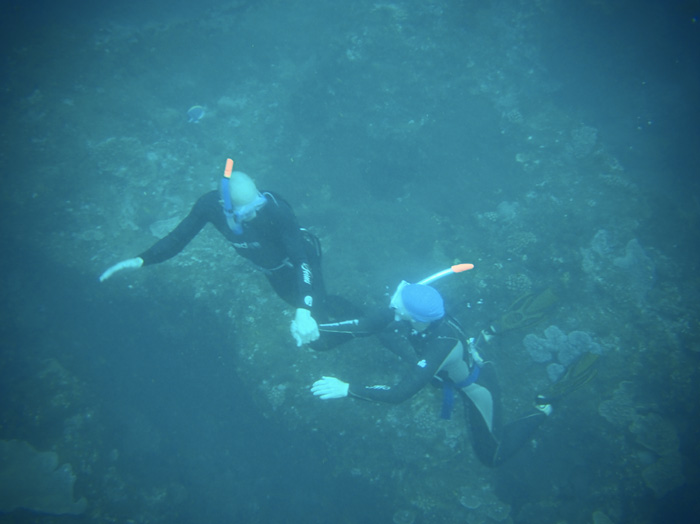 Mike and Wilma hanging out at minus 10ish.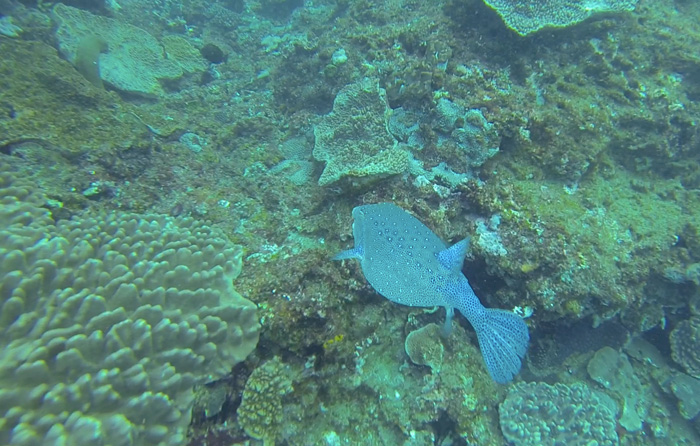 The reefs of Sodwana are alive with interesting creatures.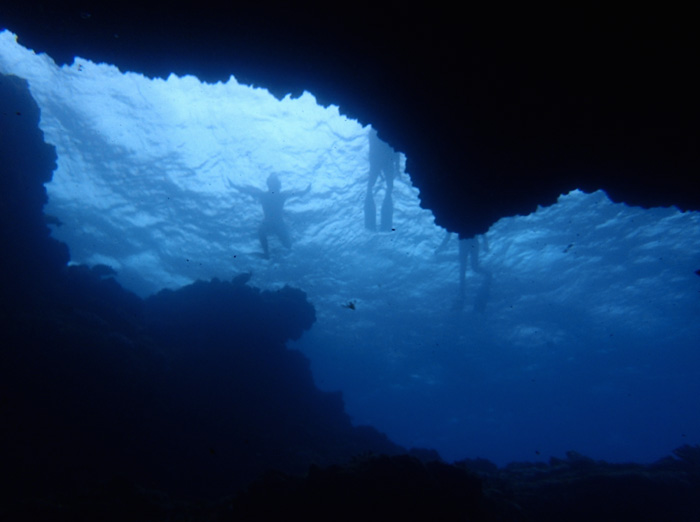 The underwater world of Sodwana is a treasure drove of exploration delights. Clay shooting from within one of the caves, with the crew breathing up and getting ready to join him.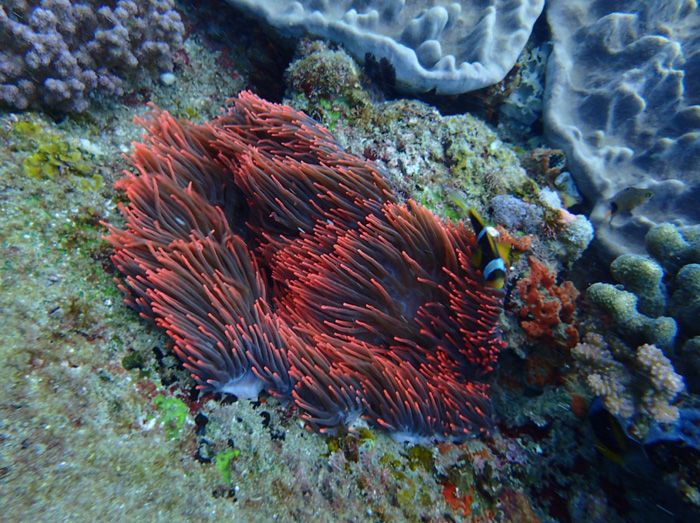 The colours down there are unbelievable.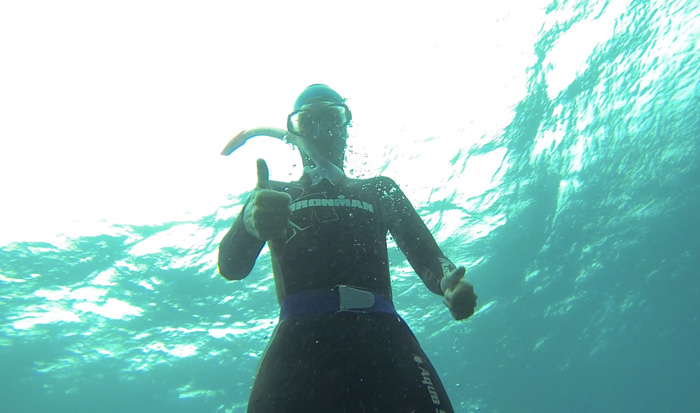 Our swimming coach Wilma didn't hesitate to practice what she preaches.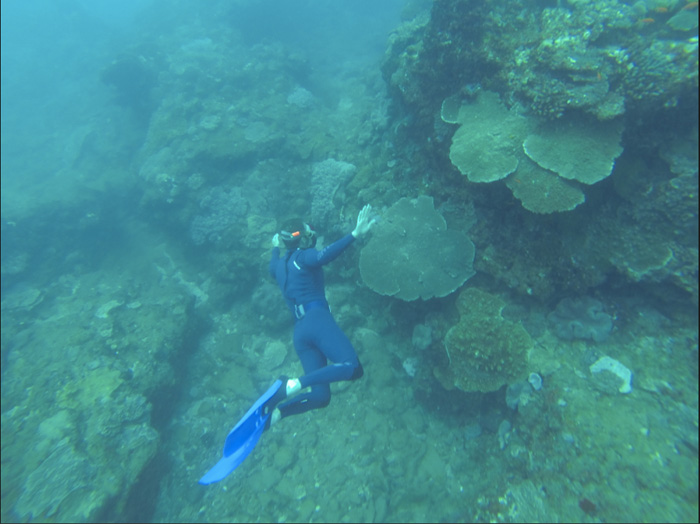 Craig, no need for SCUBA boss, quite happy down here with my breath hold.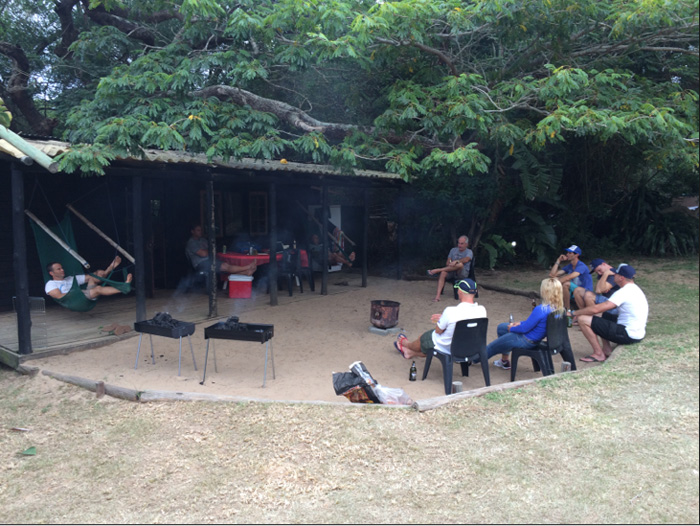 Diggers bush camp where somehow every night we went to bed earlier.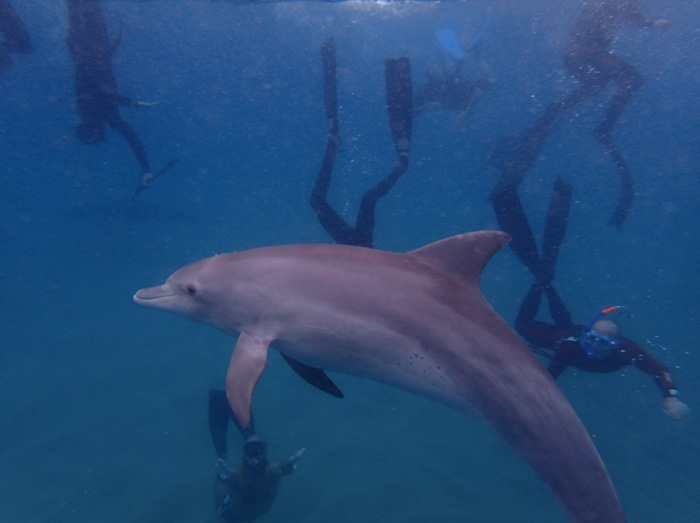 This is what we trained for, to be able to hang out in nature with the wildlife.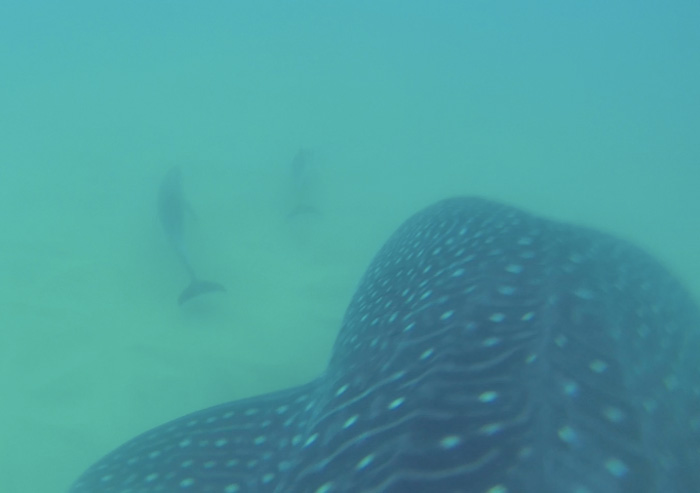 To understand the scale of this Whale Shark look at the size of the Dolphins in font of it.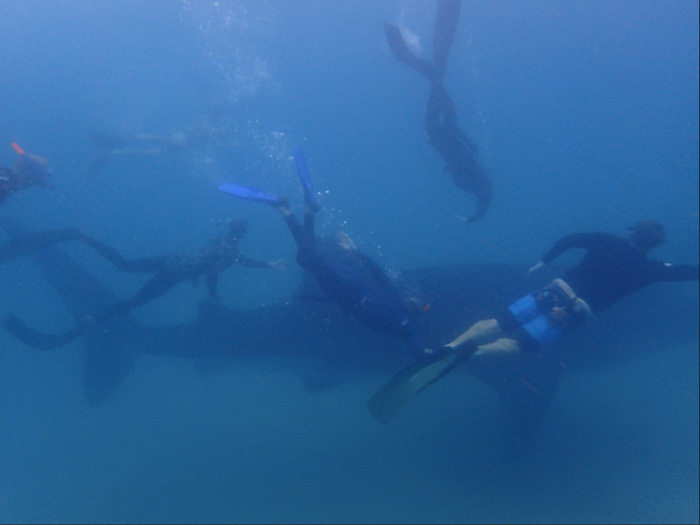 It is difficult to express the joy you feel when sharing space with these big guys in the wild.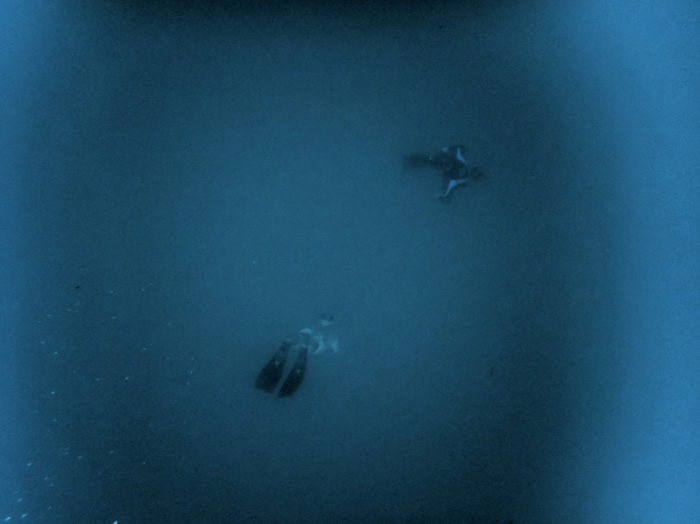 The Boys were getting pretty deep towards the end. If you consider that Clay was at least 10m deep when he shot this depths of over 20m on the last day were fairly common.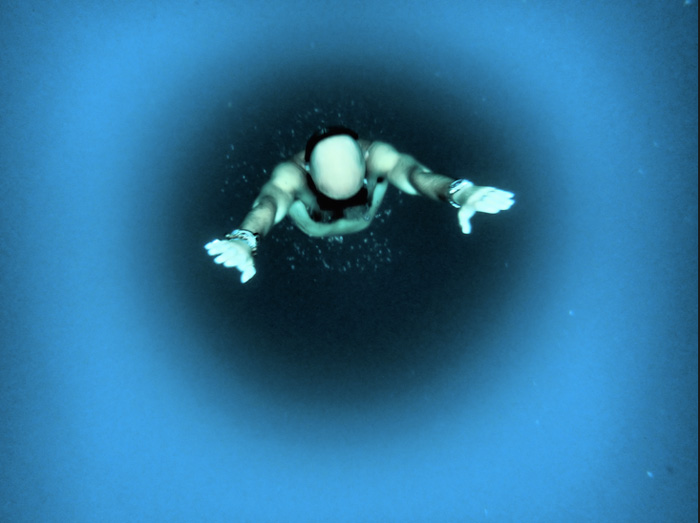 Coming back from a deep dive in the Big Blue.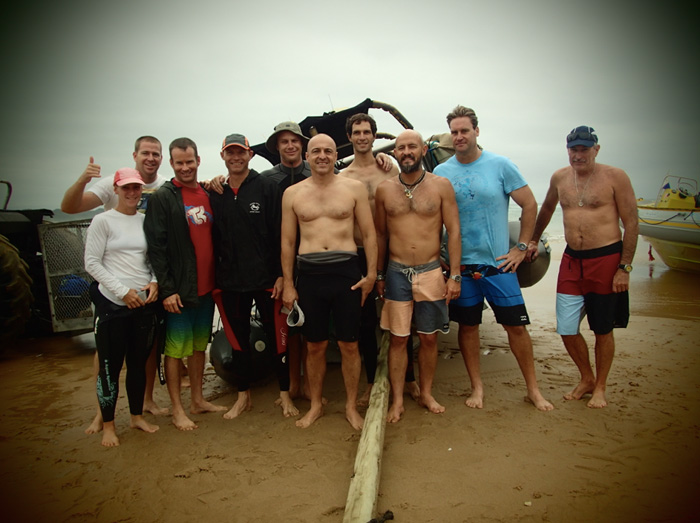 The crew stoked to go and put their training into practice.
Sodwana Surf and Free Dive Eco Adventure 2014.
By John McCarthy, December 2014.

I was finning along quietly behind two dolphins when from the bottom of my vision a behemoth filled in the space below me. I nearly dropped my Go Pro I got such a fright. It was so close to me that I couldn't tell what it was at first and there had been no warning. The distinctive speckled skin marks told my confused brain that what I was looking at was a massive whale shark. Stealthily it had surprised us, while we swam with a pod of dolphins in the warm water of the Indian Ocean, off Sodwana Bay.

None of us saw it coming and it could quite easily have swum around us if it wanted to avoid us. Instead it chose to swim right through the playful group. As anyone who has ever swum with dolphins will tell you, when they are in a playful mood it is a real treat to share space with them.

Not to be left out of the party this big old whale shark swam right through the middle of us sending dolphins and humans spinning and spiraling around it as we all swam along for a while. There we were three different species all enjoying each others company as we communed in nature. Magical. As we surfaced, laughing and whooping, eyes shining from the stoke and with the clicking of dolphin language ringing in our ears, we were all quite literally high as kites and so we should have been. We'd just experienced the real magic of the Sodwana Marine Wilderness first hand…

Rewind six weeks and I was pacing the onshore windblown piers along Durban's beachfront contemplating the surf drought ahead of me. One I knew would last until the tropical cyclones started in February. I needed something to sink my teeth into and to keep me busy in the off-season. Endless lengths of the pool did not appeal.

I needed an objective and that is how the Sodwana Surf and Free Dive Eco Adventure came about.

While the surf all along the East Coast is typically not great at this time of year, the diving at Sodwana remains world class. I was looking for something that would challenge me physically, but also have a big payoff in terms of my relationship with the ocean.

The idea was to train really hard for a month on hypoxic breath hold and then go and put that training to good use free diving, surfing and spearfishing in Sodwana.

I chatted to Wilma Van Niekerk, (a great swimming coach, who I've worked with quite a bit in the past on other breath hold courses) about helping to put together an aggressive training schedule that would knock us into shape. She loved the idea. The course was to run three sessions a week for four weeks through November and then we'd hit Sodwana in the first week of December.
It was surprisingly easy to round up a willing crew of aspirant breath hold cohorts from the surfing community. Pretty soon we were lined up in our baggies on the side of the DGC swimming pool on a chilly November morning at 5:45am.

This course was as much a learning, as it was a teaching experience for me. Despite having been involved in four previous courses and having done a course with Hanli Prinsloo, once I started researching breath hold, I realized how little I knew about it.

As surfers it is amazing that for how much time we spend in water, we are really uncomfortable with the idea of being under water for any length of time. It is this fear that often limits us from enjoying the challenges of bigger waves. I wasn't so interested in the classic free diving or competitive aspects of breath hold, what I was looking for was a way for us to expand our capacity under water so that we could translate that into exploration without SCUBA and lay a foundation of fitness and breath hold for the grinding barrels of cyclone season next year.

SCUBA has its place, make no mistake, but I find it so cumbersome. Typically each dive is on one stretch of reef where you hang out for an hour or so. I wanted to be able to explore lots of locations and be able to ascend and descend quickly multiple times. I wanted to have the freedom to pick and choose from the delights of the Sodwana Marine Wilderness with relative ease.

Before each session I'd try and share one bit of theory, which Wilma then translated into action in the pool. Wilma is used to training elite level athletes and she had no mercy on us. The pool sessions were hectic, but the results were almost immediate. Both Wilma and I were astonished at the radical progress everyone made. Because I was doing the sessions I could feel the improvement in my body week by week. Some of the more colorful and creative exercises Wilma devised for us included, an underwater obstacle course, swimming lengths of Kings Park, then running up to the 10m board and jumping off and going into a breath hold by swimming another length under water. Her old favorite had us passing a weighted ball along the bottom of the 5m deep end at Kings Park pool, rugby style. We even did one session where we swam out to the shark nets and did a series of dives to the ocean floor. By the time November drew to a close we were in incredible shape. Everyone could swim at least 45m under water, while some of the guys were swimming as far as 65-75m without fins. Curtis, Mike and Mark lead the charge, but I was seriously impressed with Geoff and Wilhelm who had been slow starters. Geoff could barely hold his breath for 30 seconds when he started and he couldn't even swim one length of the 25m pool underwater. At the conclusion he could hold his breath for 2 minutes and 10 seconds and swim very close to 50m underwater without fins.

For us to enjoy what Sodwana has to offer it was vital to partner with guys up there who know what is going on. Fortunately my good mate Digger is very dialed in up there. He can take you to any part of reef you like navigating purely by sight and experience. No GPS, no map, it is all in his head like some crazy super computer. He also has an incredible understanding of the marine life of the area and a very good understanding of the various dolphin pods that frequent that part of the coast. His ability to find whale sharks is legendary as the bar at his home attests to. It is built entirely from empty Jack Daniels bottles. The story goes that each one is from a whale shark sighting. Digger is assisted by his wife Mish and his right hand man Clay Barnard. Clay must be close to having logged over a thousand dives up there and is practically part of the ocean wildlife himself. He knows every cave and creature and he was to be our underwater guide.

We got up there on Friday at lunch time and Digger wasted no time in whisking us out to Two Mile to 'feel the water' as he calls it. Oh my word what a treat! After the cold pool sessions and the chlorine, diving in the warm blue of Sodwana was like balm for the soul. We were all smiles on the boat back in. I surfed my Alaia at the Lighthouse that evening while Peter and Jonsey went spearfishing. That evening Digger braaied us a fresh fish and we crashed early.

The thing about waking up in the bush on the east coast in summer is the incredible sounds of the bird life. On Saturday we woke early to the cacophony of our feathered friends. A cup of coffee, a quick launch and we were off up the coast.

Our first stop was Whale Shark Point. A long right-hander with rocks at the top and a long, sloping sandbar running into a deep bay. The backdrop is pristine subtropical bush. The sand bar was amazing and the waves, while not cooking by any means, were enough to sate our thirst for some surf action. Besides that we were the only surfers in sight and it felt like our own private point break.

After a very satisfying surf we headed north to a spot known for Raggies. We jumped in and investigated their haunt but they were not home. Seeing as we were in the area we decided to catch a couple of waves at Diggers Cove which is another great surf spot in the area.

Two surf sessions and a couple of dives in we decided to meander back down the coast as we were about 40km north of Sodwana by that stage. The first stop on the way back was at a place called The Green Tree. This is a magnificent coral head display on a ledge located at about 16m. Below that the sandy ocean floor lies at around 24m.

This would be a great dive for us to test our training. Descending past the amazing coral reef I was conscious of the water pressure on my body. As I reached the ocean floor the pressure on my mask was increased. Despite the training the actual experience of the depth took some getting used to. That said, the earlier dives of around 15m now seemed incredibly easy. The whole time I was diving I could feel my ability and comfort expanding.

Before heading for home Digger took us to a place called Breaking Waters. This is a shallow stretch of reef with amazing coral formations, ledges and some pretty cool swim throughs. Clay showed us all these little treats. After the deeper dives earlier, this really was fun and we all made serious progress on our bottom times.

That evening while watching the birds come in to roost at lake Sibaya, cold beers in hand, our happy conversations mingled with the sounds of the Hippos getting ready for the night. We fell into bed exhausted and stoked.

I awoke the next morning to find that the swell had jacked up quite a bit. I decided on a quick surf at the Lighthouse before Digger and the crew picked me up with the boat. The plan was to head back up to The Green Tree and start from there. On the way we found a pod of dolphins and jumped in to play with them. They had lots of young with them and were not too social so we climbed back into the boat and headed north. Not too much later we spotted another pod and these guys were in a really playful mood.

They were swimming all around us darting in and out playfully flicking their tails and all the while chattering away in the busy clicking of dolphin-speak. It was right then, and without warning that the whale shark swam right through the middle of us. All those cold mornings and long hours in the pool were repaid back to us tenfold as we were able to swim along with this magnificent creature in it's natural habitat.

Back on the boat I considered the gift I'd just given myself and came to the conclusion that the experience was priceless. When I looked into the faces of my fellow breath hold mates I could tell that the magic wand had swept over all of us. Clay and Digger were not immune and were just as stoked, if not more so than the rest of us.

Digger took us back to The Green Tree. Amazingly in just 24 hours I felt so at home there. Where the day before swimming down to the ocean bed had been a challenge the next day it was a pleasure. Instead of rushing my time under water, I savored it and treasured every moment. I drew out each dive for as long as I could.

Wilma and I discussed the radically increased capacity that we were all enjoying and decided that aside from the psychological aspects of breath hold, the intense training program must have boosted our red blood cell counts making us more effective under water for longer.

I felt such contentment, joy and peace down there that upon surfacing after one of my dives I asked Digger if it was possible to get narked at 16-18m on a simple breath hold.

The smile lines in his eyes just creased as he replied " Na mate, that is just called happiness in its purest form."

Boy was he right!

We did a drift dive of a couple of kilometers before ending up at Breaking Waters again, where we literally played for hours. Broken, but completely stoked we climbed back on the boat and headed for home.

Just off Seven Mile, Digger had one last treat in store for us. It was a ledge at around 20m, characterized by a big outcrop of coral. I was physically exhausted but flipped off the boat for one last dive. Craig and I descended together. Gone were the wild antics of yesterday, we were simply too tired. Instead we drifted downwards slowly and calmly through an infinite blue. It was exquisite. Despite my fatigue my breath hold seemed elastic. I could see in his body language that Craig felt the same way too.

Free diving is seductive because it makes you feel so good. The danger though, is that you ignore your body talking to you, and push yourself into a blackout and drown. The deal I'd made with myself, and the doctrine I'd advocated to the group, was to ascend as soon as breathing contractions started. On that last dive they didn't come for ages. This allowed me the time and space, both inside my head, and within the beauty of the big blue all around me, to know what real peace feels like.

Driving back into the hustle and bustle of Durban later that evening my cell phone pinged. It was a message from Wilma and Mike who'd made a detour at Umfolozi. They were watching the sunset near a waterhole and a Rhino and Elephant had just walked past…

Where in the world can you swim with turtles, dolphins and whale sharks, dive pristine coral reefs, surf with just your mates and then watch Rhino and Elephant come down to drink in the evening?

Grateful thanks to Wilma for the amazing coaching, to Digger, Mish and Clay from Da Blue Juice for the epic hosting in Sodwana and to all the crew on this course who pushed me to explore my own limits.

If you enjoy nature, South Africa is paradise. If you like getting fit and challenging yourself, you can gift yourself a marine wilderness experience that translates into a sensation of pure freedom.

Priceless!

This is a course that I will almost certainly repeat next year in February with a more extended cross border, cyclone chasing surf mission and a more intense free diving component added to it designed to run over seven days. I'm currently looking at the week 2-8 March for the trip (the first full moon spring tide), with training three times a week through February.

There will only be 8 slots available for the trip, but we can accommodate a few extra to the training. If you are keen to grab a slot mail me at john@thegreenersurfer.com.